This month's update will be short and sweet. A "normal" month in the market feels like a welcome respite from a horrible year, just in time for the holidays. And that's exactly what November was. . . Normal and predictable.
Virtually every indicator in November was in line with what we expect to see heading into Winter in Seattle. A slight uptick in average $/sq. ft. is the only thing that's slightly out-of-the-ordinary and I believe is a reflection of increased demand for single family homes from buyers needing to upsize because of COVID. But the effect feels minimal to me. . . Take last year for example. Between October and November, 2019, we saw a 4.5% decrease in average $/sq. ft. This year, a 1.5% increase. So, all other things being equal, I think a 6% difference between the two months, year-over-year, feels pretty modest considering the gravity of COVID and the effect its had on our lives and society in general. . . Just more evidence that Seattle's robust tech sector has made the market relatively pandemic-proof.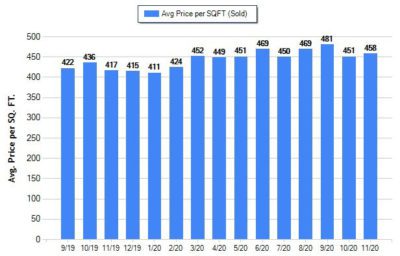 The number of properties for sale was down, but the percentage decrease between active listings between October and November this year was very similar to last year, as was the percentage decline in sold properties AND the downward trajectory of pending properties: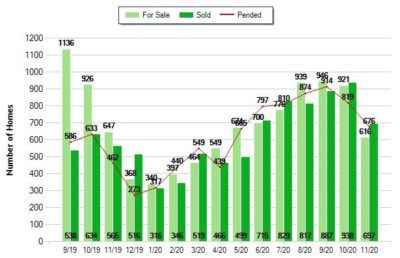 The only significant difference I can see this year is that there were actually significantly more properties for sale this November than last November. That said, the number of listings for sale should not be confused with inventory. Inventory takes into account the absorption rate (the rate at which properties are selling). Buyers are still pretty active this year and at the rate buyers are scooping up available inventory, if no new listings came to market, we'd exhaust available inventory in less than a month. Of course that's impossible. But it's still solid proof that it's still very much a seller's market: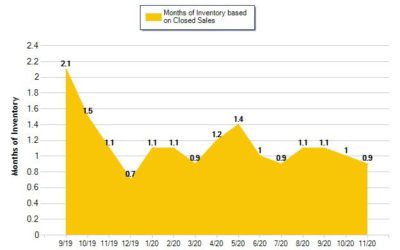 Nonetheless, inventory this November was only .2 months lower than last year. And inventory would have to drop another .2 months in December to reach the lowest point we hit last winter. . . So again, a pretty typical November for our market in terms of inventory. . .
Days on market and sold price vs. asking price was virtually unchanged from October: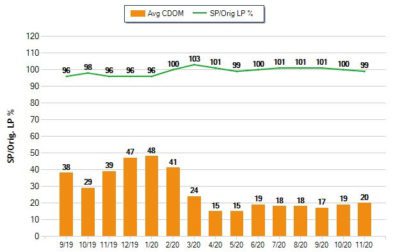 To summarize, no major shifts, nothing surprising, all very normal for late-Fall in the Pacific Northwest. I'm doubtful we'll see any major changes before January, and of course, anything that happens in January won't be statistically evident until February (although us Realtors can generally feel when a shift is happening). . .
Anyway, I hope this finds you safe and sane. My best to you, your friends, and family.