I doubt I'll ever forget how 2021 ended for me. . .
On December 28th I drove over icy roads and made it to the University of Washington Medical Center, for my COVID booster shot. Aside from a sore arm, I felt great and enjoyed the Kraken hockey game in person that night. But around 4 in the morning I woke up in a cold sweat that no number of extra blankets could help. Of course I initially assumed this was just an adverse reaction to the booster shot. But after sleeping most of the day, when my breathing became labored and every 10 minutes I was expectorating liquid that was forming in my lungs (?) we thought this might be something more. We had a couple different home COVID tests. I tested positive twice in a row.
The Seattle condo market started the new year in much the same way as the previous year ended. If anything, the seasonality of the market was illustrated pretty starkly, with fewer properties for sale, fewer pending listings, and fewer closings than we had in any month of the year. But that's typical this time of year; it's always slow in December.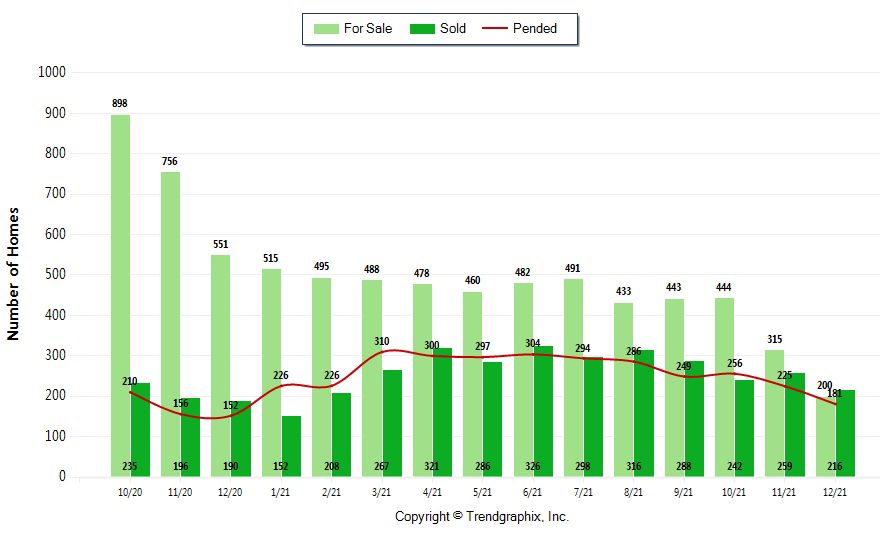 What strikes me as odd, and a little troubling, is the divergence between asking prices and sold prices for condos in the city: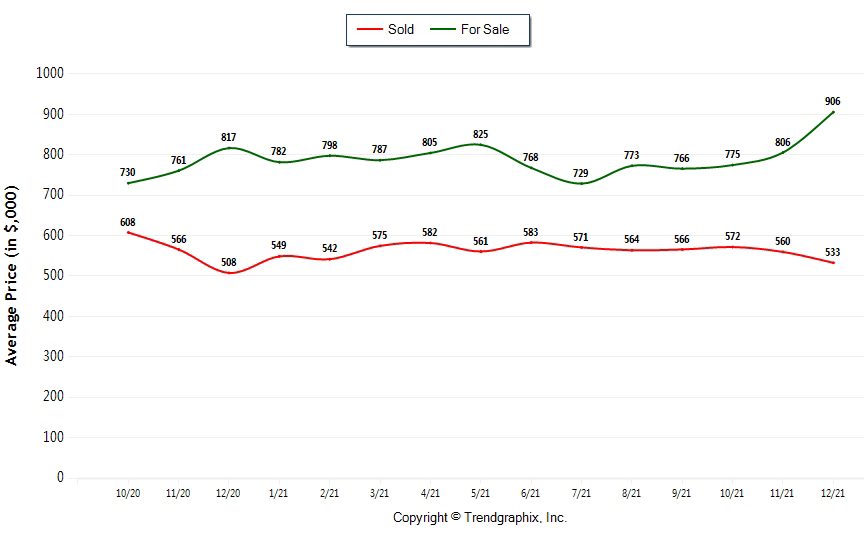 Some of this divergence can be attributed to the cheaper units selling, while more expensive units languish on market, which drives the average "for sale" price up. But an average asking price nearly 70% above the average sold price is a larger discrepancy than can be explained by a few units selling. It's a greater discrepancy than we've seen at any point since the beginning of the pandemic.
This is NOT a sign of recovery. If anything, it's the opposite. Before the condo market can begin to fully recover, condo Sellers must price their units in line with what the market will bear, not with the results they hope to achieve, which will stimulate increased sales volumes and begin to free up the log jamb we've had in the condo market since COVID began.
I suspect that every month that passes, an ever-increasing percentage of condo Sellers in the city are owners who bought pre-pandemic, at higher prices than they can reasonably expect to sell for. Some of these owners/Sellers are "innocents": first-time Buyers who've been occupying the units they bought and intended to do so indefinitely, before society shut down and their homes quickly became their jail cells. Changes in employment and other life events have resulted in these owners needing to sell much sooner than they ever expected, oftentimes at significant losses. I have nothing but sympathy for these owners. They're in a really tough position, many held hostage by the market, literally unable to sell because they don't have sufficient equity in the properties they bought to sell, even at a loss.
But there is another segment of the condo-owning population for whom I have less sympathy: the speculators.
Back in the carefree and optimistic days of 2018 and 2019, in response to a rapidly-growing population of young, financially-upwardly-mobile tech workers, a number of massive, concrete and steel high-rise condo projects began to take shape on the Seattle horizon (both literally and metaphorically). With names like First Light, The Emerald, The Gridiron, Spire, and NEXUS, these massive projects initially sold very well, offering luxury units for sale even before ground was broken, with a shocking number of units selling to buyers who never had any intention of occupying the properties they were buying. Some may have expected to hold their units as rentals for the long term, but most of them were looking to turn a quick buck. As these projects were completed and the respective developers brought finished units online for sale, amongst the units listed by the developers were a large number of units being sold by parties unaffiliated with the ownership groups. Many of these private parties owned more than one unit within a building and most had completed their purchases less than a year before. . . Of course their plan was to ride the wave of a bullish downtown condo market, financing their purchases with institutional funds with as little as 25% down, and realizing double-digit profits in a short period of time.
It's easy to see why this kind of opportunity is so attractive to speculators. Most new construction projects only require a Buyer put down 5%-10% cash in order to reserve their unit. The remaining portion of the down payment isn't due until the unit has been completed and a Certificate of Occupancy has been issued by the City of Seattle. This process can take a a year or longer. During the interim time, if the unit appreciates by 10%, an initial investment of as little as $40,000 on an $800,000 unit can yield a return of $80,000. . . A 100% return on investment, in some cases in less than a year. . . A nice little scheme, as long as a global pandemic doesn't break out. . .
Back to the growing disparity between condo asking prices and selling prices. . . I think the speculators are largely to blame.
Initially, like everyone else, speculators probably figured COVID would end when vaccines were released. But when Americans showed a surprising resistance to the vaccine (resistance to GETTING the vaccine) COVID and it's multiple variants had different plans for our recovery. Now, over 2 years later, condo prices are still lower than they were in 2019. Speculators may be benefitting from the ultra-low interest rates they locked in, but eventually even 3% APR starts to hurt, especially when coupled with lofty HOA dues, often in the $700/month+ range. . .
It's not fun anymore and the speculators would love to take their money and go home. The only problem is that condo values are still down over 5% below where they were in Q3, 2019 and before. And even though these units have never been lived in and are therefore technically still brand-new, they're now several years old and no longer have that "new condo smell" most Buyers expect. Not to mention the Builder warranties that came with these units have long since expired. Between real estate commissions, closing costs, and excise taxes, the average "cost to sell" is typically 7.5%-8%. With values lower than when they bought, speculators are now faced with losses of 13% or more when they sell. Even more when you account for HOA dues, mortgage payments, property taxes, and utilities bills. . .
Taking a 15+% loss really hurts, especially when you had your heart set on a handsome windfall. But it's time the speculators take their lumps and get out of the game. This is more important than a handful of greedy rich folks losing money on their bad investments. They're tying up valuable inventory that is desperately needed to ease the housing crisis in the city.
Every vacant condo unit represents one fewer housing unit available to the working poor. No, the economically challenged aren't beating down doors to rent luxury condos. But first-time Buyers DO want the opportunity to purchase condos at fair-market prices. Instead, would-be condo Buyers are stuck renting, which puts increased pressure on the rental market. Artificially high demand in the rental market leaves entry-level tenants priced out, facing a choice between extraordinarily long commutes, or leaving the region permanently for cheaper pastures. None of this is good for the health of our our City, County, or State for that matter.
Vacant investment properties have been tied to the unaffordability in Vancouver, B.C.'s housing market, as opined in this recent article. Maybe it's time Seattle follow British Columbia's lead and start imposing taxes on the owners of vacant properties? (I'll save that topic for another day). . .
Condo speculators aren't the only problem with our broken housing system in Seattle. But they do seem to represent an easily-solvable problem that would release a lot of pressure on the entire market and get housing flowing in the direction of better affordability sooner, rather than later.
As long as asking prices climb while selling prices fall, gridlock will rule the condo market, and that gridlock will reverberate throughout the rental market AND the entry-level single-family home market, prolonging an already agonizingly-long recovery.
To the best of my knowledge, no one on this email list is a condo speculator. So I'm preaching to the choir. Or maybe just hollering from my private mountaintop into gale-force winds. . . Either way, it's something that really pisses me off and I felt like getting it off my chest.
Thanks for listening. ?